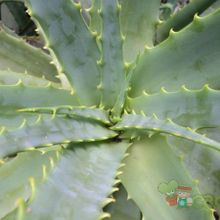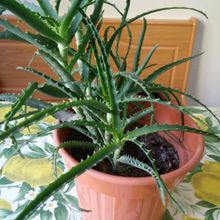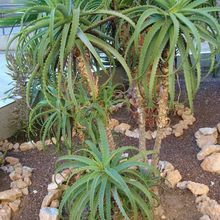 It is a bush with a woody base and very branched. The specimens with a single predominant stem reach up to 4 m in height. The rosette-shaped leaves are green, glaucous, lanceolate, fleshy and with teeth on the edges. The flowers are scarlet orange. The flowering season occurs during winter. The sap of the leaves has medicinal qualities.
Light-Temperature:
Half shade or sun. Withstands light frosts. The lowest temperature (ºC) supported by this cactus is on average:: -4

Irrigation:
Weekly in summer and no watering in winter. Avoid excess water.
Multiplication:
Use cuttings or suckers
Soil:
Requires good drainage
References:
www.infojardin.com
Scientific name:

Aloe arborescens
Synonyms:

Aloe perfoliata var. arborescens, Catevala arborescens.
Origin:

South Africa
Blooms