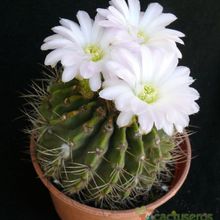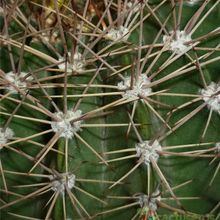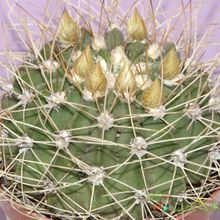 Light-Temperature:
Resistant to frost. Full sun with protection during hot summers. The lowest temperature (ºC) supported by this cactus is on average:: -12

Irrigation:
Water frequently in the summer, but don't over water. Keep dry in winter. It is resistant to drought.
Multiplication:
Seeds
Pests:
Red spiders, mites, mealy bugs, scales
Soil:
Mezcla de cactus estándar y muy poroso.
Similar Species
Scientific name:

Acanthocalycium spiniflorum
Synonyms:

Acanthocalycium violaceum, Echinocactus spiniflorus, Echinopsis spiniflora, Echinopsis violacea, Lobivia spiniflora, Lobivia spiniflora var. violacea.
Origin:

Argentina
Natural Habitat:

La especie crece en monte arbusto y chaco, siempre asociada a suelos montañosos en áreas que tienen períodos de frío en invierno. No se conocen amenazas importantes para esta especie.
Blooms