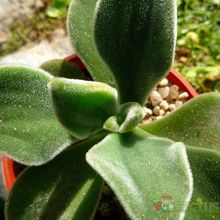 Light-Temperature:
Bright light is required to avoid "stretching" of Echeverias. Tolerates light frosts. Optimal temperature range between 5 and 25 degrees centigrade. The lowest temperature (ºC) supported by this cactus is on average:: 5

Irrigation:
It can tolerate extended dry spells, but they will get stronger if they receive adequate moisture during their growing season.
Multiplication:
It is propagated by leaf or by cuttings in the spring. When the stem becomes too tall, just cut the top rosette with a piece of stem and plant.
Pests:
Cottony mealybug
Soil:
Very porous, which will allow rapid drainage. Avoid watering upstairs in humid conditions, especially during winter.
Similar Species
Scientific name:

Echeveria coccinea
Synonyms:

Cotyledon coccinea.
Origin:

Mexico (Hidalgo).
Blooms