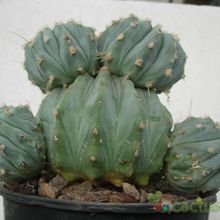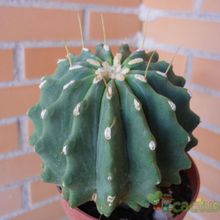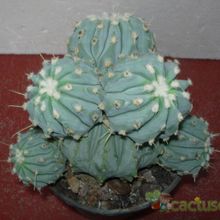 Light-Temperature:
Full sun all year. It can tolerate sporadic light frosts. The lowest temperature (ºC) supported by this cactus is on average:: -2

Irrigation:
This plant needs a lot of water, approximately once a week. But avoid moistening the body while in sunlight.
Multiplication:
Cutouts made from stem pieces can be separated
Soil:
It is suitable for any rich, well-drained soil.
Similar Species
Scientific name:

Ferocactus glaucescens fma. inermis
Synonyms:

.
Origin:

Produced in a nursery. The wild species is found from Guanajuato to Querétaro, San Luis Potosí and Hidalgo (Meztitlan, Toliman and Jacala) in central-eastern Mexico.
Blooms