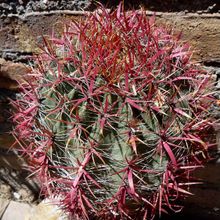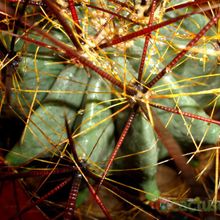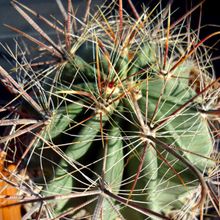 Light-Temperature:
Full sun or half shade in summer. Requires light frost protection. The lowest temperature (ºC) supported by this cactus is on average:: -4

Irrigation:
Water regularly throughout the growth cycle. You should avoid wetting the body of this plant while it is in sunlight. Keep dry during winter.
Multiplication:
Seeds
Pests:
Mealybugs, scaly insects and mites.
Soil:
They are suitable for any rich, well-drained soil, such as clay, pumice, lava sand, and just a little bit of peat or mold.
Similar Species
Scientific name:

Ferocactus cylindraceus subsp. lecontei
Synonyms:

Echinocactus hertrichii, Echinocactus lecontei, Echinocactus wislizeni f. lecontei, Echinocactus wislizeni var. lecontei, Ferocactus acanthodes var. lecontei, Ferocactus cylindraceus var. lecontei, Ferocactus lecontei.
Origin:

It extends through central and western Arizona, southeastern California, and south to Baja California and Sonora, Mexico.
Natural Habitat:

This cactus is locally abundant on the arid gravel or rocky slopes, canyon walls, fans, and wash margins at an elevation of 600-1250 m between creosote thickets.