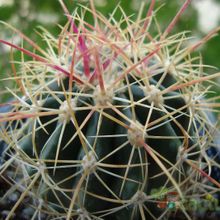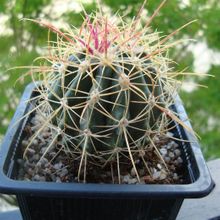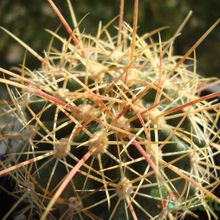 Light-Temperature:
Full sun, or half shade in summer if the place is extremely hot or bright. Requires frost protection. The lowest temperature (ºC) supported by this cactus is on average:: 3

Irrigation:
Regulate during the growth cycle. You need a lot of water, but not too much and let your soil dry between waterings. Keep fairly dry in winter.
Multiplication:
Seeds
Pests:
Mealybugs, scaly insects and mites
Soil:
They are suitable for any rich, well-drained soil, such as clay, pumice, lava sand, and just a little bit of peat or mold.
Similar Species
Scientific name:

Ferocactus alamosanus
Synonyms:

Echinocactus alamosanus, Ferocactus alamosanus var. platygonus, Ferocactus pottsii var. alamosanus.
Origin:

Mexico. Western edge of the Sierra Madre Occidental.
Natural Habitat:

The species is found in the upper tropical deciduous forests, up to the pine and oak forests. Known only in a restricted area.