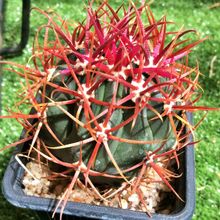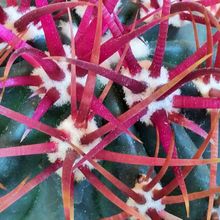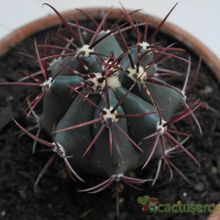 Light-Temperature:
It needs a lot of light to develop its typical spine, but different clones vary in their tolerance to full sunlight. When dormant, the plant is slightly cold tolerant. The lowest temperature (ºC) supported by this cactus is on average:: -2

Irrigation:
Water regularly throughout the summer whenever the pot is allowed to drain. It rots easily, avoid wetting the body. Let dry between waterings.
Multiplication:
Seeds
Pests:
Mealybugs, scaly insects and mites. Watch out for rot if over-watered.
Soil:
It grows well in rich, well-drained soil, such as clay, pumice, lava sand, and just a little bit of peat or mold, but is not demanding of the soil.
Similar Species
Scientific name:

Ferocactus gracilis
Synonyms:

Ferocactus peninsulae var. gracilis.
Origin:

South end of the Sierra San Pedro martyr south to below Punta Pricta, Baja California Norte (Mexico, North America).
Natural Habitat:

It grows on rocky slopes, fans, plains, and gravel plains.