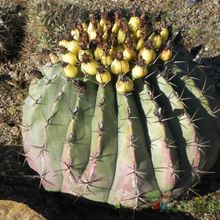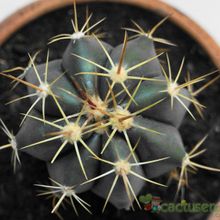 Light-Temperature:
It needs full sun. It can tolerate light sporadic frosts. The lowest temperature (ºC) supported by this cactus is on average:: 5

Irrigation:
Moderate during the growing season. Keep dry at 10 degrees centigrade in winter.
Multiplication:
Seeds
Pests:
Mealybugs, mites, scales.
Soil:
Add pebbles or coarse sand to the substrate for cacti to obtain good drainage.
Similar Species
Scientific name:

Ferocactus pottsi
Synonyms:

Echinocactus pottsii.
Origin:

México (Chihuahua, Sinaloa, Sonora) Altitude: from 240 to 1000 (-1800) meters of elevation.
Natural Habitat:

It occurs in tropical deciduous forests up to the pine forest, in Sierra Canela, Chihuahua. This species is known from only three places and it is not very common where it has been found.