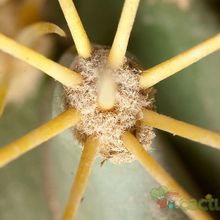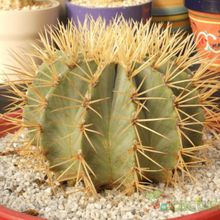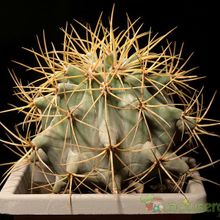 Light-Temperature:
Full sun all year round. It can tolerate light frosts. In winter keep completely dry at 10 degrees Celsius. The lowest temperature (ºC) supported by this cactus is on average:: -5

Irrigation:
Water at least once a week during the growth cycle. In winter little to no watering.
Multiplication:
Seeds are the usual form of reproduction. These cacti will easily grow from seeds and some from cuttings.
Pests:
Mealybugs. Mites.
Soil:
It grows best in a fairly spacious, well-drained container filled with a porous cactus soil mix that doesn't contain too much humus.
Similar Species
Scientific name:

Ferocactus glaucescens
Synonyms:

Echinocactus dietrichianus, Echinocactus glaucescens, Echinocactus mammillarioides, Echinocactus pfeifferi, Echinocactus theiacanthus, Echinocactus theionacanthus, Echinofossulocactus pfeifferi, Ferocactus pfeifferi, Malacocarpus mammillarioides.
Origin:

Central East of Mexico, Guanajuato, Querétaro, San Luis Potosí and Hidalgo
Natural Habitat:

This species is found in dry deciduous forests and dry scrub habitats on limestone hills and rocks.
Blooms