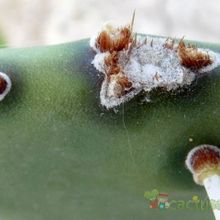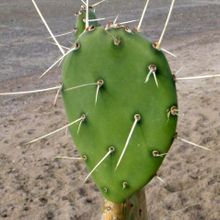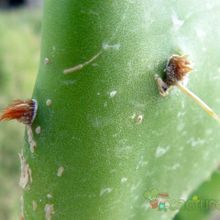 Light-Temperature:
Full sun. It will not produce many flowers in a semi shaded position. Frost tolerant. The lowest temperature (ºC) supported by this cactus is on average:: -10

Irrigation:
It should be kept fairly dry in winter, but likes a reasonable supply of water in the growing season.
Multiplication:
By leaf cuttings at any time during the growing season.
Pests:
Cottony mealybug.
Soil:
Grow outdoors in dry, sandy, or severely well-drained soils.
Similar Species
Scientific name:

Opuntia elata
Synonyms:

Opuntia alko-tuna, Opuntia chakensis, Opuntia pyrrhantha, Platyopuntia interjecta, Platyopuntia pyrrhantha.
Origin:

Argentina, in Corrientes, Entre Ríos, Buenos Aires, Santiago del Estero, Chaco, Formosa, Córdoba and Santa Fe. In Brazil, Río Grande do Sul. Paraguay, Bolivia and Uruguay.
Natural Habitat:

This cactus is found in forests and savannas of the Chaco region.
Blooms