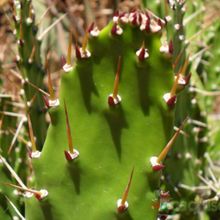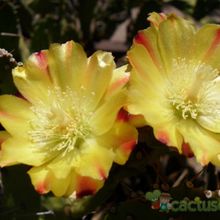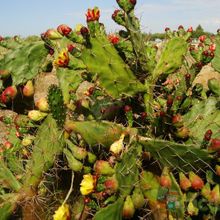 Light-Temperature:
Can grow in full sun as well as in half shade. Resists soft frosts. The lowest temperature (ºC) supported by this cactus is on average:: 0

Irrigation:
Moderate to little irrigation. Drought resistant.
Multiplication:
Use cuttings of segments or fragments of stems separated from the mother plant or by seeds in spring and summer.
Pests:
Cottony mealybug and fungi due to excess watering.
Soil:
It appreciates a soil with a sandy texture, semi - fertile and well drained.
Similar Species
Scientific name:

Opuntia monacantha
Synonyms:

.
Origin:

Argentina, Brazil, Paraguay, Uruguay
Natural Habitat:

It is endemic to Argentina, Brazil, Paraguay, Uruguay and is naturalized in Australia and South Africa. Their natural habitats are subtropical or tropical forests, humid low-lying forests or sandy coasts.
Blooms