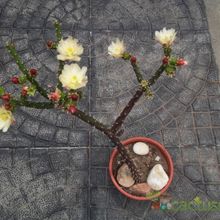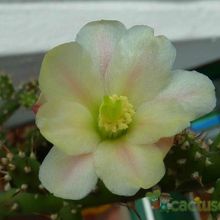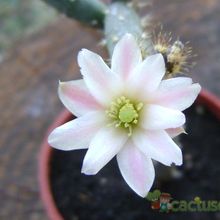 Light-Temperature:
Slightly frost resistant. It can withstand extremely high temperatures in summer. The lowest temperature (ºC) supported by this cactus is on average:: -4

Irrigation:
In summer it should be watered regularly, allowing the substrate to dry. Keep dry in winter.
Multiplication:
Cuttings or new shoots of the mother plant.
Pests:
Cottony mealybug.
Soil:
Use a very draining substrate, preferably sandy or gravelly soils as it is sensitive to rot.
Similar Species
Scientific name:

Opuntia salmiana
Synonyms:

Opuntia albiflora, Opuntia ipatiana, Opuntia spegazzinii.
Origin:

Northern Argentina, Paraguay, Bolivia.
Natural Habitat:

This species can appear in alkaline soils and rocky areas in the Pampas mountains. It occurs at the edge of the Chaco xerophytic forest, particularly in the transition between the humid Chaco and dry Chaco regions.
Blooms