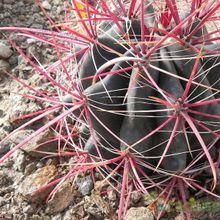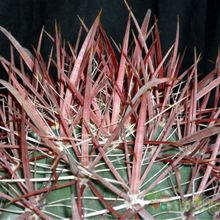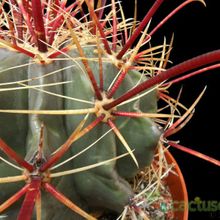 Light-Temperature:
They need a lot of light to develop their typical spine, but different clones vary in their tolerance to full sunlight. The lowest temperature (ºC) supported by this cactus is on average:: -2

Irrigation:
During hot weather you may need to water the plants more frequently as long as the plant is actively growing. From autumn it should be reduced.
Multiplication:
Seeds
Pests:
Mealybugs, scaly insects and mites. Watch out for rot if the plants are over-watered
Soil:
It grows well in rich, well-drained soil, such as clay, pumice, lava sand, and just a little bit of peat or mold, but is not demanding on the soil.
Similar Species
Scientific name:

Ferocactus gracilis ssp. coloratus
Synonyms:

.
Origin:

Known only from the area between Punta Pricta and Miller \ 's Landing, Baja California, Northwest Mexico.
Natural Habitat:

It grows at low elevation on rocky slopes and gravel plains.
Blooms