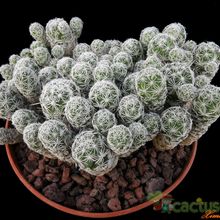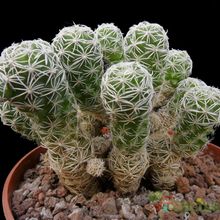 Light-Temperature:
Full sun. Optimum temperature range between 15 and 35 degrees Celsius. The lowest temperature (ºC) supported by this cactus is on average:: 5

Irrigation:
Water in a dry substrate during the spring and summer months. In winter reduce or stop watering.
Multiplication:
It is easily multiplied by suckers or cuttings.
Pests:
Red spider. Mealybugs. roundworms.
Soil:
It is essential that it has very good drainage. Incorporate a significant portion of coarse sand into the substrate for cacti and succulents.
Similar Species
Scientific name:

Mammillaria gracilis
Synonyms:

Mammillaria fragilis, Mammillaria gracilis var. pulchella, Mammillaria vetula ssp. gracilis.
Origin:

Mexico
Natural Habitat:

It is native to eastern Mexico and is distributed in the states of Hidalgo, Guanajuato and Querétaro. It forms colonies in the pine forests, between 1,600 to 3,350 meters above sea level.
Blooms