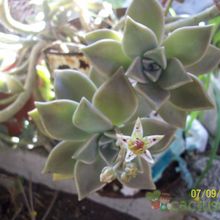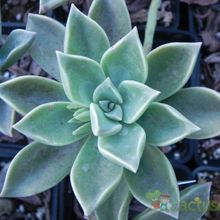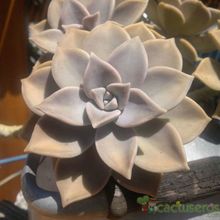 The leaves are arranged in rosettes and tend to be elongated and of gree/grey colour. The leaves are covered by a protective layer that prevents burns from direct sun. They can reach up to 20 cm in height depending on the lighting level of the habitat where it grows. The flowers are small and white with a light red center. Flowers from February to May.
Light-Temperature:
Full sun or half shade. Ideal temperatures should range between 20 and 28°C. The lowest temperature (ºC) supported by this cactus is on average:: 7

Irrigation:
In warm seasons water the plant when the soil is completely dry, monthly at other times.
Multiplication:
seeds, leaves or cuttings
Pests:
Mealybugs. Coccidos
Soil:
The soli must have good drainage to avoid rotting the roots. Ideally, mix soil with small stones or coarse sand.
References:
www.llifle.com Naturalezatropical.com
Similar Species