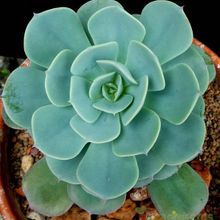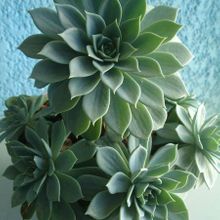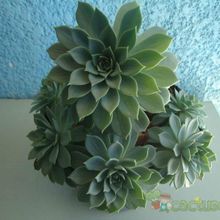 It is a perennial herbaceous plant, of the crassulaceae family. It grows in the form of a compact rosette, with a short and creeping stem. Generally 20 cm in diameter. It has numerous concave, spatulate, thick and fleshy leaves. Its color is green and depending on sun exposure they can have blue and gray tones. The outer edges are usually reddish. The floral stem is 20cm to 30cm tall, pink in color and can have 10 to 12 flowers each. The flowers are lantern-shaped, red and yellow in color. They can be seen in spring and until the end of summer.
Light-Temperature:
Full sun or half shade. It is very resistant to various climates and withstands light frosts. The lowest temperature (ºC) supported by this cactus is on average:: -2

Irrigation:
Moderate in spring - summer and scarce in autumn - winter.
Multiplication:
By seeds, by leaf cuttings or by suckers in spring and summer.
Pests:
Mealybugs and aphids on their flowers mainly, slugs and snails on their leaves.
Soil:
A mixture of universal substrate, perlite and river sand to ensure good drainage.
References:
www.llifle.com www.crassulaceae.ch
Similar Species
Scientific name:

Echeveria secunda
Synonyms:

Cotyledon glauca, Cotyledon pumila, Cotyledon secunda, Echeveria byrnesii, Echeveria glauca, Echeveria glauca var. pumila, Echeveria gracillima, Echeveria pumila, Echeveria pumila var. glauca, Echeveria rosacea, Echeveria secunda f. byrnesii, Echeveria secunda var. byrnesii, Echeveria secunda var. glauca, Echeveria secunda var. pumila, Echeveria spilota.
Origin:

Mexico. (Hidalgo, Guanajuato, Federal District, Puebla, Taxcala, Querétaro)
Natural Habitat:

It is distributed in mountainous spaces on the neo-volcanic axis. Between 2200 and 4200 masl. It tends to form colonies on rocky outcrops and volcanic rock slopes.
Blooms