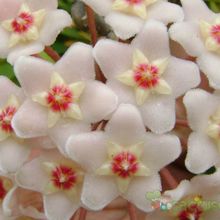 Light-Temperature:
It needs to be located in a very bright place with good air flow but avoid direct sunlight. The ideal temperature range is 18 to 25 degrees Celsius. The lowest temperature (ºC) supported by this cactus is on average:: 10

Irrigation:
Water in moderation. In the growing season, always keep moist without puddling. In autumn and winter reduce watering.
Multiplication:
cuttings
Pests:
Mealybugs. Mites. Aphids
Soil:
Use a cacti and succulents substrate. Good drainage is required.
Scientific name:

Hoya carnosa var. carnosa
Synonyms:

Stapelia chinensis.
Origin:

Australia
Natural Habitat:

Found in the warmer areas of Asia, Australia, and many islands in the Pacific Ocean.
Blooms