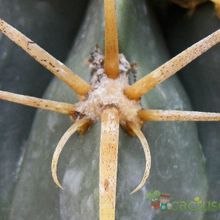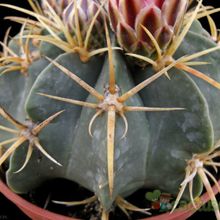 Light-Temperature:
Grow it in full sun all year round. In winter, keep it completely dry at 10 degrees centigrade. It can tolerate light sporadic frosts. The lowest temperature (ºC) supported by this cactus is on average:: -3

Irrigation:
Prone to rot. In the winter keep it dry. It is necessary to avoid wetting the bodies of these plants while they are in sunlight.
Multiplication:
Seeds
Pests:
It is apt to be attacked by spider mites if it is placed near fruit trees.
Soil:
It is suitable for any rich, well-drained soil.
Similar Species
Scientific name:

Ferocactus macrodiscus
Synonyms:

Bisnaga macrodisca, Echinocactus campylacanthus, Echinocactus macrodiscus, Echinocactus macrodiscus f. multiflorus, Echinocactus macrodiscus var. multiflorus, Echinofossulocactus campylacanthus.
Origin:

It grows in various areas of the Mexican Highlands, in the states of San Luis Potosí, Guanajuato, Querétaro, Puebla and also in Oaxaca. The neotype was collected by Dr. George Lindsay in San Juan Teposcolula, Oaxaca.
Natural Habitat:

It occurs in a very dry area in grasslands and oak forests (Quercus) in association with Tillandsia usneoides, desert shrubs and trees. It is located at elevations of 2,300 to 2,600 meters above sea level.
Blooms