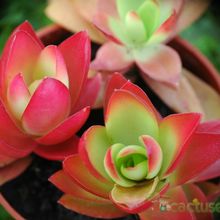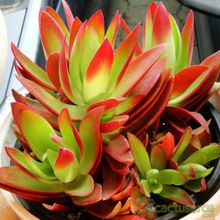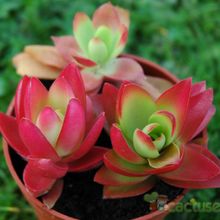 A creeping succulent that grows up to 30 cm in height. It has green and red leaves which are oval shaped. They produce spikes of small white flowers in the summer. Does not require pruning or fertilizers.
Light-Temperature:
It thrives in full sun or semi-shade exposures. If it does not have enough sun, the leaves will be bright green. Withstands high temperatures well, but not frost. The lowest temperature (ºC) supported by this cactus is on average:: 5

Irrigation:
Drought resistant, it should only be watered when the substrate is completely dry. In winter it goes to rest so no watering is required.
Multiplication:
From seeds sown in spring or by cuttings made in summer.
Pests:
Mealybugs. Snails. Slugs. In some cases ants.
Soil:
It should be very well drained and will appreciate some organic matter.
References:
www.consultaplantas.com www.llifle.com
Similar Species