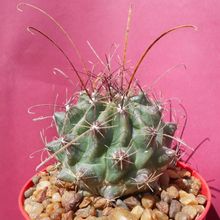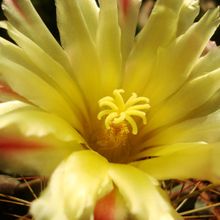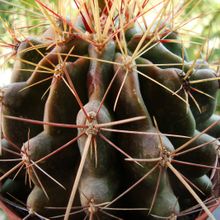 Light-Temperature:
Full sun all year round, but better with a bit of shade in summer. The lowest temperature (ºC) supported by this cactus is on average:: -7

Irrigation:
Carry out weekly waterings during the growth period. In winter keep dry at 5 degrees centigrade. It is tolerant to frost.
Multiplication:
Typically from seeds but some can be grown from cuttings.
Pests:
Mealybugs. Mites. Red spider.
Soil:
It grows best in a well-drained container, filled with a porous cactus soil mix that doesn't contain too much humus.
Similar Species
Scientific name:

Ferocactus hamatacanthus ssp. sinuatus
Synonyms:

Ferocactus hamatacanthus var. sinuatus.
Origin:

Mexico and the United States.
Natural Habitat:

It is found in more eastern habitats in Tamaulipan, facing the Pecos River to the east and south, through Eagle Pass, to the bushland near Brownsville, northeast to the edge of Hill County, near Camp Wood.
Blooms