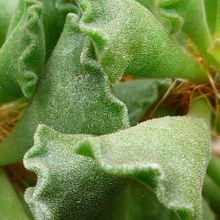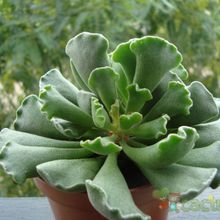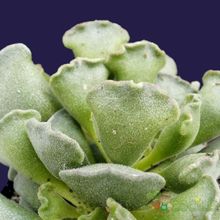 Light-Temperature:
It requires at least 6 hours of light a day and good ventilation. It tolerates high temperatures as long as it is not exposed to the midday sun in summer. The lowest temperature (ºC) supported by this cactus is on average:: 5

Irrigation:
Water deeply in the summer but water sparingly or not at all in the winter.
Multiplication:
By leaf, cuttings or shoots from the base of the mother plant.
Pests:
Aphids, Mealybugs
Soil:
A mixture of black peat, perlite and river sand in equal parts, to obtain good drainage.
Similar Species
Scientific name:

Adromischus cristatus
Synonyms:

Cotyledon cristata.
Origin:

Eastern Cape Province, South Africa
Natural Habitat:

Typical of the succulent thickets of the Eastern Cape found on sheltered and shady rocky outcrops and rocky slopes.
Blooms