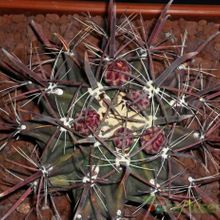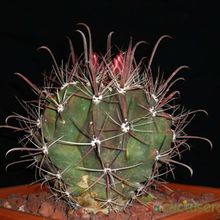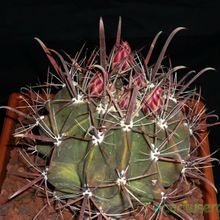 Light-Temperature:
It needs full sun. Keep dry at 10 degrees centigrade in winter. It can tolerate light sporadic frosts. The lowest temperature (ºC) supported by this cactus is on average:: -5

Irrigation:
Moderate watering during the growth cycle, but avoid moistening the body.
Multiplication:
Seeds
Pests:
Mealybugs. Scaly insects. Mites.
Soil:
A substrate for cacti and succulents is ideal, and a part of pebbles or coarse sand can be added to promote drainage.
Similar Species
Scientific name:

Ferocactus herrerae
Synonyms:

Ferocactus wislizeni ssp. herrerae, Ferocactus wislizeni var. herrerae.
Origin:

Mexico (Sinaloa, Sonora), in coastal plains, less than 400 m above sea level.
Natural Habitat:

It grows in the sand on the slopes of the hills. It gets a lot of water in two months and a lot of sun all year round.
Blooms