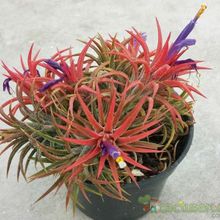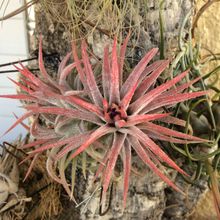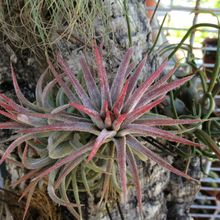 Light-Temperature:
Full sun or partial sun. In hot climates, provide some shade in the afternoon. In winter find a bright place. It is sensitive to strong frosts. Optimal temperature range of 15 to 45 degrees Celsius. The lowest temperature (ºC) supported by this cactus is on average:: 15

Irrigation:
It absorbs all the water and nutrients it needs from the air, it should not be watered as often. They are extremely drought tolerant.
Multiplication:
By plant division or by seeds.
Pests:
Very resistant to pests and diseases.
Soil:
Ii grows naturally on trees and does not need soil.
Scientific name:

Tillandsia ionantha
Synonyms:

Pityrophyllum gracile, Tillandsia ionantha var. van-hyningii, Tillandsia ionantha var. zebrina, Tillandsia rubentifolia, Tillandsia scopus.
Origin:

It is found in Mexico, Costa Rica, El Salvador, Guatemala, Honduras, and Nicaragua.
Natural Habitat:

Mainly epiphytic on deciduous trees
Blooms