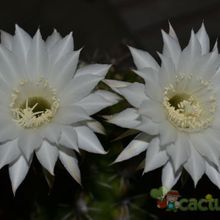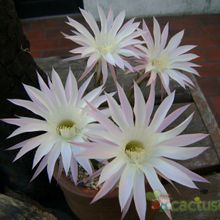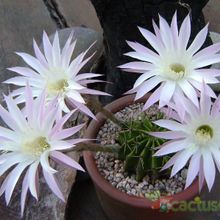 Light-Temperature:
From partial shadow until full sun. p> The lowest temperature (ºC) supported by this cactus is on average:: 0

Irrigation:
Low water when it is already well established. p>
Similar Species
Scientific name:

Echinopsis oxygona
Synonyms:

Cereus oxygonus, Echinocactus multiplex, Echinocactus octogonus, Echinocactus oxygonus, Echinocactus sulcatus, Echinonyctanthus multiplex, Echinonyctanthus oxygonus, Echinopsis brasiliensis, Echinopsis multiplex, Echinopsis oxygona f. brevispina, Echinopsis paraguayensis, Echinopsis schwantesii.
Origin:

Argentina, Bolivia, Uruguay and Paraguay.
Natural Habitat:

Chaco, Corrientes, between Rios, Formosa, Jujuy, Salta, Santa Fe, Santiago del Estero - Argentina: Paraguay: Chuquisaca, Santa Cruz, Tarija - Bolivia. Uruguay p>
Blooms