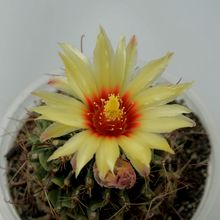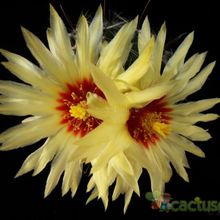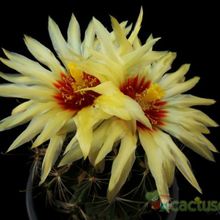 Light-Temperature:
Direct sunlight for a few hours a day. Temperature range between 15 and 35 degrees Celsius. Does not tolerate frost. The lowest temperature (ºC) supported by this cactus is on average:: -7

Irrigation:
Water when the substrate dries completely. Excessive watering causes rots.
Multiplication:
By suckers or by seeds.
Pests:
Mealybugs, snails and nematodes.
Soil:
Use a cacti and succulent substrate, and add a layer of coarse sand for drainage.
Similar Species
Scientific name:

Thelocactus setispinus
Synonyms:

Echinocactus hamatus, Echinocactus setispinus, Ferocactus setispinus, Hamatocactus bicolor, Hamatocactus setispinus.
Origin:

Desert regions of northern Mexico and southern Texas.
Natural Habitat:

Se encuentra en la vegetación de arbustos espinosos y tierras bajas costeras, bajo matorrales de Mesquite.
Blooms