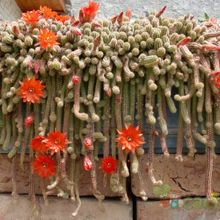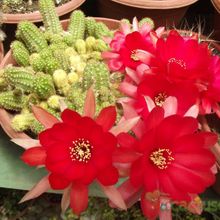 Irrigation:
Moderate water in summar. Little water in winter, otherwise it rots.
Multiplication:
Easy to propagate from seed or, for better results, by cuttings. Small round shoots grow on longer stems that fall forming new plants since the root grows easily without help.
Pests:
In winter it is common to be infested with cochineal, and other insects or mites.
Soil:
Requires well drained soil in a sunny place
Similar Species
Scientific name:

Echinopsis chamaecereus
Synonyms:

Cereus silvestrii, Cereus silvestrii var. crassicaulis, Chamaecereus silvestrii, Lobivia silvestrii.
Origin:

Argentina
Natural Habitat:

Blooms