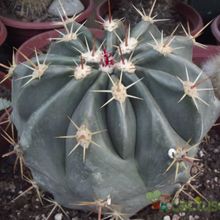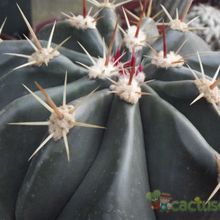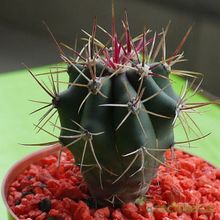 Light-Temperature:
When inactive, the plant is very cold tolerant. It needs a lot of light. Half shade or full sun. Optimal temperature range between 20 and 30 degrees centigrade. The lowest temperature (ºC) supported by this cactus is on average:: -5

Irrigation:
Water regularly throughout the summer whenever the pot is allowed to drain. You should avoid wetting the body of this plant. Let dry between waterings.
Multiplication:
Seeds
Pests:
Mealybugs, scaly insects and mites.
Soil:
It grows well in rich, well-drained soil, such as clay, pumice, lava sand, and just a little bit of peat or mold, but is not demanding on the soil.
Similar Species
Scientific name:

Ferocactus cylindraceus subsp. tortulispinus
Synonyms:

Ferocactus acanthodes subsp. tortulispinus, Ferocactus acanthodes var. tortulispinus, Ferocactus cylindraceus var. tortulispinus, Ferocactus tortulispinus.
Origin:

Viscaino desert in rocky places between El Crucero and Cerro Juan to Laguna Seca Chapala and east to Las Arrastras and Calamajue Misión de Arriola
Natural Habitat:

It grows on volcanic blocks, weathered granite, and greenish slate.