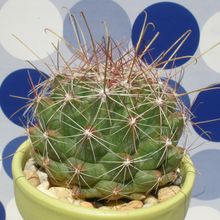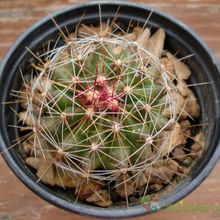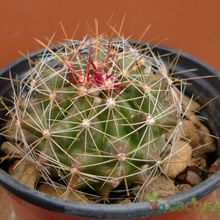 Light-Temperature:
Prefers light shade where its color tends to become richer and darker. The lowest temperature (ºC) supported by this cactus is on average:: -5

Irrigation:
Water sparingly in spring and summer, thin, fibrous roots suffer if there is moisture. It should be watered only when the substrate is dry. Tolerates mild frosts.
Multiplication:
Seeds
Pests:
Red spiders. Cottony mealybugs.
Soil:
Use a well permeable mineral substrate with little organic matter (peat, humus). Plants can get too long if the compost is too rich.
Similar Species
Scientific name:

Ferocactus hamatacanthus
Synonyms:

Echinocactus gerardii, Echinocactus haematochroanthus, Echinocactus uncinatus, Echinocactus uncinatus fma. wrightii, Echinocactus uncinatus var. wrightii.
Origin:

Southern Texas, New Mexico and Northern Mexico.
Natural Habitat:

The plants are mainly found in the Chihuahuan desert,
Blooms