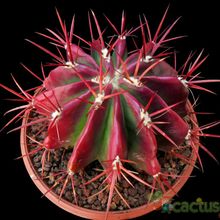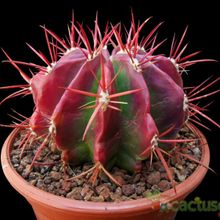 Light-Temperature:
Tolerates very bright situations, if they are kept too dark they can become too lush and greener. The lowest temperature (ºC) supported by this cactus is on average:: -5

Irrigation:
Keep dry during the winter months. Water regularly during the growing cycle. It can tolerate sporadic light frosts.
Multiplication:
Seeds
Pests:
Red spiders, cottony bugs, scales.
Soil:
Use a free, open-draining mineral compost with little organic matter, peat, humus, which allows the roots to breathe.
Similar Species
Scientific name:

Ferocactus pilosus
Synonyms:

Bisnaga haematacantha, Echinocactus electracanthus var. haematacanthus, Echinocactus piliferus, Echinocactus pilosus, Echinocactus pilosus f. stainesii, Echinocactus pilosus var. pringlei, Echinocactus pilosus var. stainesii, Echinocactus pringlei, Echinocactus stainesii, Ferocactus piliferus, Ferocactus piliferus f. flavispinus, Ferocactus piliferus var. stainesii, Ferocactus pringlei, Ferocactus stainesii, Ferocactus stainesii var. pilosus, Ferocactus stainesii var. pringlei.
Origin:

Mexico. States of Coahuila, Durango, Nuevo León, San Luis Potosí, Tamaulipas and Zacatecas. It occurs in much of the northern Mexican Altiplano.
Natural Habitat:

This species is found in the semi-desert on various types of soil, but most often on rocky limestone slopes. It is threatened by the illegal collection of individuals from wild subpopulations.
Blooms